Free Express Shipping
Secure Pickup & Delivery
Offices in USA & UK
Upgrades compatible with
top worldwide banks
Signet London is an independent entity and has no affiliation or association with Visa, Mastercard, American Express or Discover. The trademarks Visa, Mastercard, American Express or Discover are solely owned by their respective companies, and Signet London makes no claim of ownership or rights to use them.
A worldwide trusted choice of thousands
How To Get Your Custom
Metal Card
Safely, Securely, and Stress-Free
01
Place Your Order
Configure your card on our customizer. Once you place your order our FREE in-house designers will send you a final mockup for confirmation to ensure your card is exactly how to envisioned.
Get inspired with our extensive collection of pre-made designs, each ready to be personalized to your liking. Use the card builder to select your favorite color, add your name, signature, and logo, or any other personal element that makes the card yours.
02
Send Us Your Old Card
After you confirm your design, you'll receive an email with prepaid express shipping details. We've partnered with trusted carriers like UPS and FedEx to ensure your card's safe transit.
To guarantee your card's safety, we utilize a secure service typically reserved for highly sensitive documents like passports and driving licenses. This underscores our commitment to trusted and reliable handling.
03
Sit Back, Relax
Upon receiving your card, we immediately begin the manufacturing process, crafting it based on your chosen design and ensuring a swift turnaround: your newly minted card is dispatched the very day it arrives at our facility.
Being a fully PCI-compliant company, we take every measure to keep your card details confidential and untouched. Our expertly vetted team uses encrypted manufacturing equipment that operates offline, shielding your data from potential cyber threats. You can trust in our commitment to protect your information while ensuring timely and exceptional service.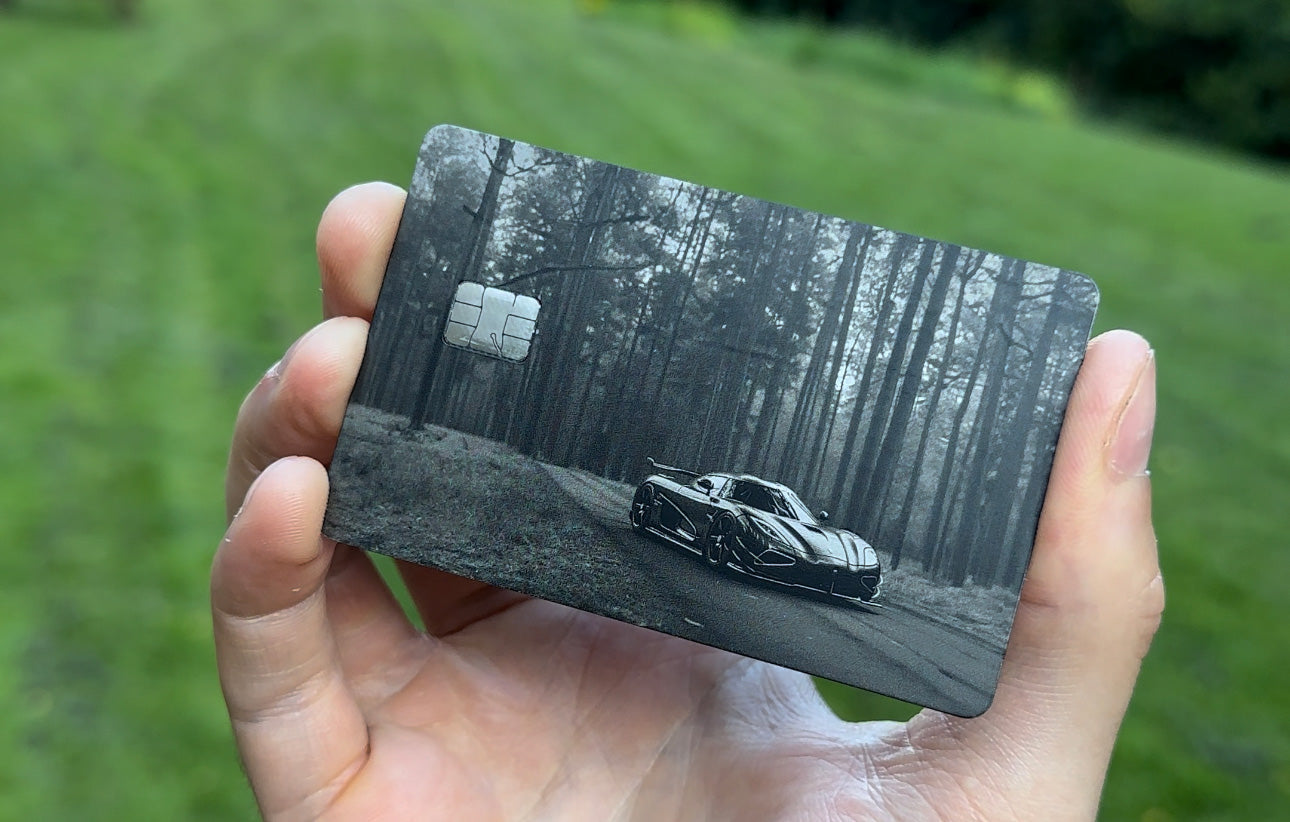 04
Welcome to the Elite Group Of Signet Card Holders
You will receive your newly designed exclusive card in as little as 24 hours, so you can start experiencing luxury with every swipe right away!
Signet Is The Luxury Upgrade Your Wallet Has Been Missing
Backed by the highest level of security and transparency
A Statement Of Your Success
Imagine having a bank card that's not just a simple plastic rectangle but a symbol of your hard-earned success and sophistication. With Signet, you can turn your everyday debit/credit card into a one-of-a-kind, handcrafted work of art that truly reflects your unique style.
Crafted for You
With our expert designers at the helm, we take the stress and overwhelm out of crafting the perfect card. Whether you envision a bespoke masterpiece or lean towards one of our refined pre-made designs, we're here to ensure your card is as distinctive as you are. Trust in our team to make the process effortless and your card unforgettable.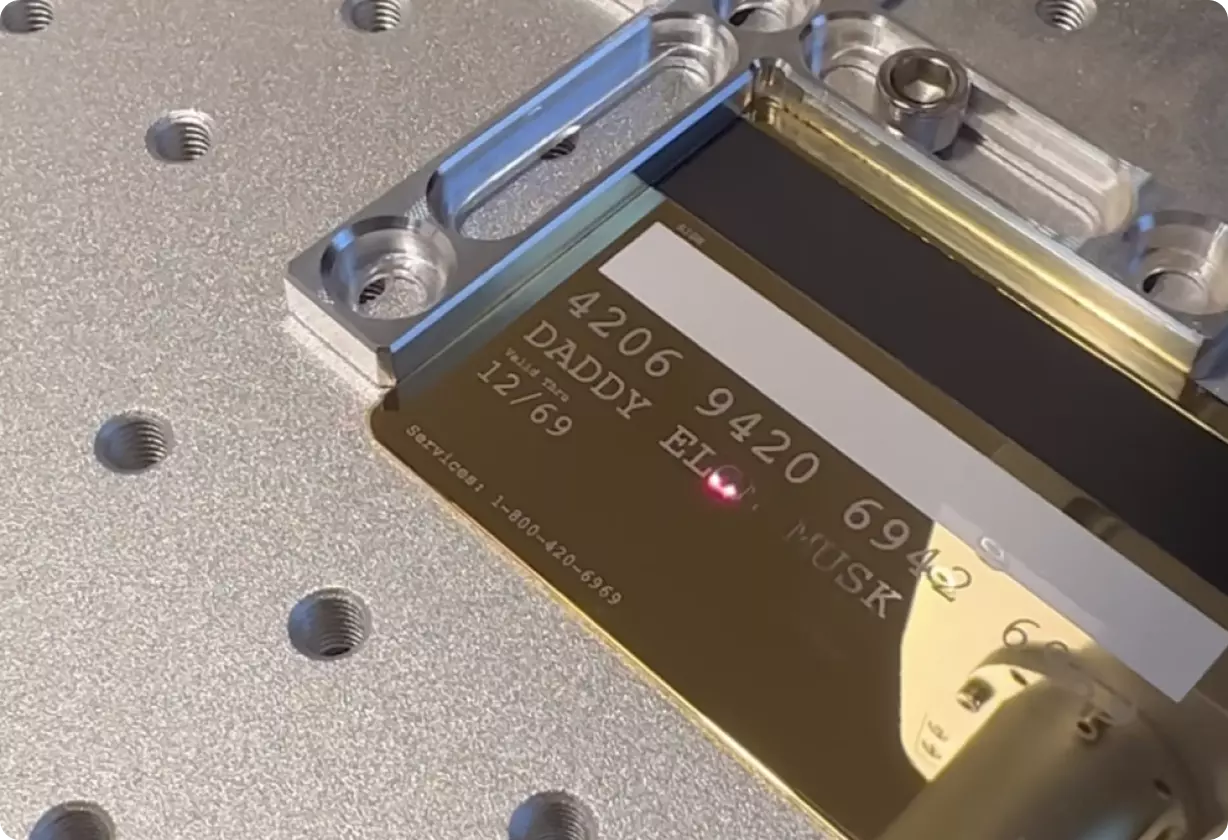 Unrivaled Craftsmanship
Weighing in at 28 grams, each Signet bank card is a masterpiece crafted from high-density steel. Whether you prefer the sophistication of a brushed look, the artistry of painted details, or the luxury of precious metal finishes, we bring your vision to life. Choose to display or hide your card numbers, tailoring privacy to your preference. Embrace the power of full customization with Signet, and let your card be a bold statement of your unparalleled style.
Get Started
Ensuring That You Are Financially Secure And Worry-Free Is Our Top Priority
With us, your data will always be in good hands.
Secure Express Delivery
We use unbranded discreet tamper-proof packaging, provide full insured express tracking for shipping, and offer a 3-6 day total turnaround on all orders.
Safe Transportation
The cards we produce are made at a facility separate from our head office. They are then transported from our secure mailbox in a discreet, fire-resistant security box.
100% Data Protection
We maintain security standards through multi-layered protection, PCI compliance, vetted employees, and encrypted offline machines that are regularly updated.
Exclusive benefits you won't find anywhere else
No Annual Fees
You won't have to pay any fee to maintain and use the card. 
No Financial Checks
We do not perform any financial background checks.
Offices in USA & UK
World-class design, locally minded service, all in one card.
Buy Now & Pay Later
Order your custom-made Signet card today and pay at a later date.
Free Worldwide Shipping
Have your card quickly delivered right to your doorstep with no additional costs.
Keep Your Rewards
Enjoy all the benefits of your current debit or credit card, with a fresh new look.
"Amazing service from start to finish. Design service was worth the extra cost, changed my design numerous times. Next day delivery all the way to Czech Republic"
"Fantasic design and super fast turnaround. The process is totally secure and will have no hesiation recommending to friends."
"My design Looks even better in person thanks Signet London. I was a little hesitant sending my bank card but now glad I did. Quick and efficient service 100% recommend was kept updated throughout the whole process. Great quality card and excellent craftsmanship."
"Highly Trustworthy Company, Great ExperienceI have known Tyler and his team for years, worked together with them on many consultations and projects. I can only speak most highly of their ethics and drive to provide a bespoke customer experience and value through their products."
"The process was really easy, and felt safe the entire time. The company does a great job of communicating and tracking my order so I never felt unsafe about the process. The best part was the amazing card. when clients see me paying for a dinner or lunch with a custom metal card with my company logo on it they know I mean business! I absolutely love it!"
Signet Vs The Rest 
Your signature card, with signature perks.
American Express® Platinum Card
Create My Card
I got this card very quickly and the whole process was super easy so I would totally recommend doing this, definitely worth the price!
Thank you for your review Tyler! We hope to see you again soon. If you ever need any assistance we're here to help! :-)
Good quality, great customer service. Card is beautiful!
Thank you for your kind review. If you ever need any assistance please feel free to reach out!
Impressive Design, Top Customer Service
Impressive design and quality. Initially, I found their website a bit confusing, but their customer service was helpful.
Signet Exceeds Expectations After Poor Experience Elsewhere
I came to Signet after a horror story with another company. They had slow shipping, delayed turnaround, and I even had to file a chargeback! With Signet, it's been smooth sailing - quick service, quality cards, and no hidden fees.
excellent work and quality A +++++
You are so welcome, thank you for being a customer. We're always here to help!
Frequently Asked Questions
We understand that choosing the right card can be a big decision, and we're committed to providing you with all the information you need to make an informed choice!
+

What happens when my card expires?
Your card will expire at the same time as the card you converted. Not to worry though as we do offer card care which provides unlimited free replacements for any reason. If you decide to not get card care we offer large discounts for repeat customers.

If you want to get the most out of your card we have a guide for each bank to extend your expiry date.
+

Will this work with my card?
Absolutely! We can convert all major bank cards from plastic to metal.
+

How long does it take to receive my card back?
We process your card on the same day we receive it and ship your new metal card back to you within 1-2 days via UPS or FedEx. Expect a total turnaround time of 3-6 days for all orders.
+

What happens to my old card?
You can choose to have your plastic card sent back to you along with your new metal card, or you can opt for us to dispose of it at our facility securely.
+

Do I have to be rich to use a Signet card?
Not at all! Signet card is accessible to everyone, as there are no annual fees or costly requirements. Unlike premium cards provided by other banks, the Signet London card is available to anyone who wants to have a sleek, customised, metal card.
Create My Card
Browse designs
Get your exclusive
personalised

bank card and stand out from the crowd!

Signet Card offers exclusivity without sacrifice, customisation without compromise. Discover for yourself a way to turn the commonplace into art with Signet.
Rated 4.5/5 by hundreds of happy customers.